TechnoLawyer Exclusive Interview With Digital WarRoom Co-Founders Dan & Bill Gallivan: "Making eDiscovery Accessible, Safe and Profitable for Law Firms of All Sizes"
Download the White Paper here.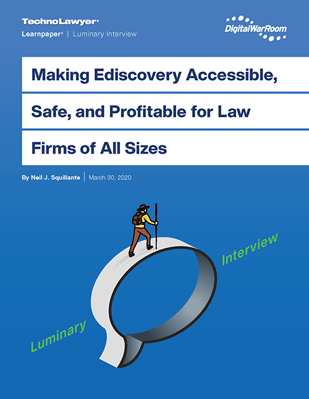 THE EDISCOVERY SOFTWARE MARKET
The high prices of ediscovery software stem from venture capital investments and weaponization of the ediscovery process by large firms with ample budgets.
A LOW-PRICED ALTERNATIVE
Digital WarRoom is owned and managed by brothers Bill and Dan Gallivan who have shunned venture capital. The Digital WarRoom staff has more than 10 years of tenure on average per capita. The net result is ediscovery software priced low enough for use in cases of all sizes. Customers include sole practitioners, litigation boutiques, municipalities, and law firms with fewer than 50 lawyers.
GUARDRAILS INCLUDED
Digital WarRoom builds "guardrails" into its software. For example, it's virtually impossible to make a job-ending, client-losing redaction error. Because Digital WarRoom is a cloud hosted application rather than a web app, it supports native files for document review, which enables litigators to examine metadata.
Download the White Paper here.